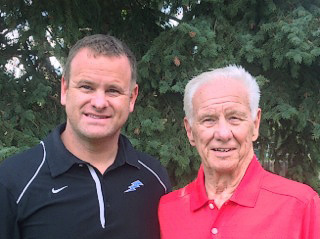 ROBERT CLAYTON
Dr. Clayton has been the director of college aquatic programs, president of a private aquatic management company, president of two national aquatic groups, competitive swimmer, high school and college coach, and author of aquatic books and articles.
In 1995 Dr. Clayton and the late Don Van Rossen began the Certified Aquatic Director course for ASCA (American Swimming Coaches Assn). Since that time over 400 ASCA coaches and over 250 college aquatic majors have gained the knowledge necessary to be successful directors of aquatic programs for both private and public groups. See the following pages for texts and courses taught by Dr. Clayton.
ROB CLAYTON 
After success as a D-I swimmer and NCAA qualifier, Rob began his coaching career as a graduate student/assistant coach at BYU where he helped coach numerous NCAA qualifiers and one swimmer to a spot on the US National Team.  In 1997, Rob was named Head Men's Swimming Coach at the U S Air Force Academy. Since then, Rob has coached conference champions, All-Americans, and US Olympic trial qualifiers. He has twice been named Mountain West Conference Coach of the Year.  
In addition to coaching, Rob teaches aquatic courses to the entire Cadet Wing, receiving the Civilian Instructor of the Year in 2004.
Rob has coached and conducted swim clinics for swimmers of all ages and abilities For information on up-coming clinics and sport camps, contact him at robnkelly97@q.com.